China to build Indonesia's first high-speed railway
Comments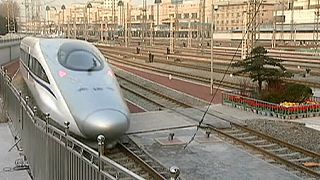 Indonesia has granted a Chinese-led consortium the right to build the country's first high-speed railway line – angering Japan which had launched a rival bid.
Much of the Southeast Asian nation's transport network badly needs repair and it's hoped the new 150-kilometre line between the capital Jakarta and Bandung will boost economic growth.
Yang Zhongmin, the head of China Railway International, the company leading the consortium said:
"Thanks to our combined forces we (China) can build a top quality high speed line, benefiting the people of Indonesia and helping develop the country economically. This has been the aim of the Indonesian-Chinese cooperation before we sign the project and it is our common goal."
A key factor in the award was that the Indonesian government will contribute no new funding to the $5.5 billion (4.83 billion euros) project.
Instead three-quarters will reportedly come from the state-owned China Development Bank, with the rest from China Railway and the four state Indonesian companies.
Construction is set to begin next year and finish in 2018. The first trains, capable of reaching 250 kilometres an hour, are due to run in early 2019.