Renzi presents Italy's tax-cutting budget
Comments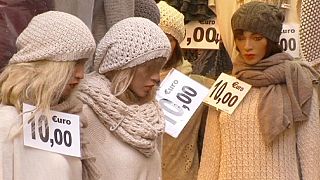 The Italian budget unveiled on Thursday by the prime minister is a mixture of tax cuts and investment that may please the people – and cause rumbles of concern in Brussels.
Matteo Renzi already revealed much of the content earlier. Twenty-seven billion euros worth of tax cuts will be funded by extra borrowing, slowing the pace of deficit and debt reduction previously agreed with the European Commission.
Technically the budget appears to break EU rules but Renzi argues he deserves some flexibility in return for reforms he's passed.
A housing tax is being abolished; the Commission believes Italy should be increasing property levies to make way for cuts in labour taxes to help create jobs.
To try to boost consumer spending, the previous limit of 1,000 euros for cash payments in shops is being raised to 3,000 euros.
Consumer and retail groups have welcomed the move.
Renzi has dismissed fears that it will encourage Italy's already large black economy and weaken the fight against tax evasion, money laundering and fraud.