Israeli-Palestinian unrest and violence multiply
Comments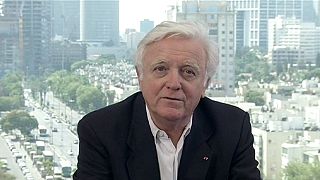 A terror crisis holds Jerusalem, the West Bank and central Israel in its grip, people not knowing where or when the next attack will happen.
Prime Minister Netanyahu has said it clearly several times. There is no chance of changing the status quo on Al Aqsa.
A man who rammed a bus stop came out of the smashed vehicle with a machete on Tuesday. On the same day came other attacks, almost simultaneously. Two Palestinian men boarded a bus in Jerusalem, shooting and stabbing.
On Wednesday, the Israeli authorities began erecting roadblocks in Palestinian neighbourhoods in East Jerusalem and deploying soldiers on main roads.
Seven Israelis and 30 Palestinians — also counting attackers — have been killed in two weeks of erratic violence, including security crackdowns, stirring memories of past Palestinian uprisings.
With the urgent need for solutions, the same questions come back again and again. We talked to a former ambassador to France about some of the most pressing.
Mohamed Abdel Azim, euronews, Lyon: "Elie Barnavi, as a former diplomat for Israel, can you tell us something about what is happening in Jerusalem, in Bethlehem and all over the West Bank, as well as in Gaza?"
Elie Barnavi, historian and analyst, Tel Aviv: "There has been a sudden, spontaneous flaring up of violence, a kind of intifada starting up which does not resemble previous ones since it is completely youth-driven, young people mobilising using online social networks, over which the Palestinian leadership has no hold. The immediate reason is a sort of feeling that Israel is encroaching on Temple Mount, al-Ḥaram al-Šarīf, with the deeper reason being that there no longer seems to be any diplomatic prospect bearing on the occupation. It's an accumulation of frustration and hatred."
euronews: "On your point about Al Aqsa, may we consider that it is endangered by Israeli extreme right movements?"
Barnavi: "There are those in the extreme right, including within the government, who would like to change the status quo. It won't happen. Prime Minister Netanyahu has said it clearly several times. There is no chance of changing the status quo on Al Aqsa. And yet the word Al Aqsa is a convenient rallying call, since it's a highly symbolic place, and for all those who seek a rallying cry, a symbol, obviously Al Aqsa is extremely convenient."
euronews: "Are we already in a third intifada of knives and social networks?"
Barnavi: "We're not in it yet, but it certainly looks like it. If we do not manage to stop this wave of violence fast, it risks turning into a real intifada. But it's already a fairly significant wave of violence. There's a sort of hysteria gripping the public's imagination. People are afraid to go out in the streets, and visibly the government does not really know what to do about it. Because with the other intifadas we knew who to address, who we were dealing with. Today, we don't know that. These are free agents and no one is really leading them. Therefore, it's hard to predict and also to suppress."
euronews: "In spite of the East Jerusalem lockdown, might the Israeli government and the Palestinian Authority do something to restart the peace talks again?"
Barnavi: "East Jerusalem is not under lockdown, that is also a slogan. It is about showing public opinion that something is being done. But it is not actually locked down. You can't lock down the city, all the more so as Jerusalem is historically a single unit. How can you unify a city if you lock down only some of its districts?"
euronews: "How is the Israeli population taking things at the moment?"
Barnavi: "They are living in fear of the next attack. But it is either too early or someone is not doing their homework — apart from some but not all of the news media — to understand what the deep-seated reasons are for this unrest, and what we can do to get out of it."