Ebola can survive in semen for up to nine months, study finds
Comments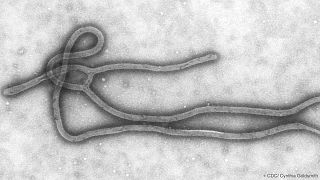 Ebola may have been beaten back after the outbreak in West Africa, but that is no reason for the world to drop its guard on the deadly incurable disease, especially after the shocking findings from the latest research.
Survivors need continued, substantial support for the next 6 to 12 months to meet these challenges and to ensure their partners are not exposed to potential virus
Scientists previously knew that fragments of the virus could survive on after the patient had been cured in male sperm for some 82 days, and be transmissible, but that figure has now been revised up to a full nine months.
The report, published today in the New England Journal of Medicine, provides the first results of a long-term study being jointly conducted by the Sierra Leone Ministry of Health and Sanitation, Sierra Leone Ministry of Defence, the World Health Organization and the U.S. Centers for Disease Control and Prevention.
Ninety three men over the age of 18 from Freetown, Sierra Leone, provided a semen sample that was tested to detect the presence of Ebola virus genetic material. The men enrolled in the study between two and 10 months after their illness began. For men who were tested in the first three months after their illness began, all were positive (9/9; 100 percent). More than half of men (26/40; 65 percent) who were tested between four to six months after their illness began were positive, while one quarter (11/43; 26 percent) of those tested between seven to nine months after their illness began also tested positive. The men were given their test results along with counseling and condoms.
"EVD survivors who volunteered for this study are doing something good for themselves and their families and are continuing to contribute to the fight against Ebola and our knowledge about this disease," said Yusuf Kabba, National President of the Sierra Leone Association of Ebola Survivors.
Why some study participants had cleared the fragments of Ebola virus from semen earlier than others remains unclear.
"This study provides further evidence that survivors need continued, substantial support for the next 6 to 12 months to meet these challenges and to ensure their partners are not exposed to potential virus," said Bruce Aylward, WHO Director-General's Special Representative on the Ebola Response.
Ebola is proving to be an especially tough nut to crack as Scottish nurse Pauline Cafferkey has found out to her cost. She contracted the disease in Sierra Leone in 2014 whilst trying to save lives there, and made a full recovery earlier this year, but has fallen ill again and is now fighting for her life in a critical condition in isolation unit in a London hospital. The virus is capable of hiding in the body without exhibiting any symptoms; indeed, when Cafferkey felt unwell last week doctors initially though she had the flu.
The World Health Organisation is now recommending all male Ebola survivors use condoms for a prolonged period after recovery to ensure that they do not pass the disease on to their partners. There are over 8000 of them in the three countries that were affected by the disease.
Until a male #Ebola survivor's semen has twice tested negative, he shld abstain from all types of sex, or use condoms when having sex

—

WHO

(@WHO) October 14, 2015