Syrian rebels claim a victory over ISIL in Aleppo as Assad allies prepare to fight for the province
Comments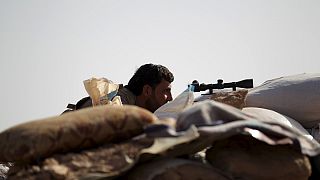 Syrian rebels claim to have freed the village of Tal Jabin in Aleppo province, overcoming ISIL fighters according to social media video.
The reported military success by Syrian President Bashar al-Assad's enemies comes as his own forces and allies are said to be preparing a major ground offensive in the Aleppo region.
One rebel soldier said ISIL fighters had been hiding on local farms, between the trees. " We killed many of them, the rest ran away, and we followed them."
Aleppo is the next target for Assad and his allies so he can defend the areas around the coastal heartlands of his Alawite minority.
Russian combat jets have also once again been in action in the area claiming to have destroyed military facilities which they described as factories making explosives for suicide bombers.
Iran is also supporting Assad with reports of thousands of their troops in the country ahead of the battle for Aleppo. Photos have been released said to show the head of Iran's Revolutionary Guards, Qassem Soleimani at a pro- regime rally in Latakia.-
Any further escalation in the Aleppo area near the Turkish border will likely anger NATO member Ankara which opposes President Assad and backs insurgents. It's government has already expressed deep concern at Russian air strikes.