Greek rubbish collectors protest over pension reforms
Comments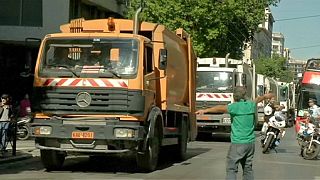 City rubbish collectors downed dustbins and parked their trucks outside Athens' Labour Ministry on Tuesday in protest over pension reforms demanded under Greece's their bailout.
The action was part of a strike which has been going on for nearly two weeks by the refuse collectors.
A draft law to be discussed by parliament raises the retirement age to 67 by 2022 and cuts pensions by 10 percent.
Public sector workers from ferry operators to hospital workers have been striking against the austerity measures for over a week now bringing services to a standstill.
Inspectors from the European Commission, European Central Bank, Euro Zone Rescue Fund and International Monetary Fund are expected in Athens this month to assess progress on the aid deal agreed in August, Greece's third international bailout.
Prime Minister Alexis Tsipras wants talks on restructuring Greece's massive debts – set to exceed 180 percent of GDP this year – to start before the end of the year. He has said Athens aims to wrap up the review in November and the bank recapitalisation in December.