Death toll mounts in Israel and the Palestinian territories
Comments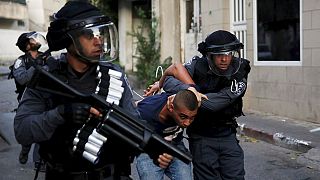 There has been no let-up in Middle East violence.
At least four Palestinians were shot dead on Saturday and stabbing attacks against Israelis are continuing.
As funerals were held, anger flared in Hebron and Ramallah in the West Bank – just two flashpoints where youths clashed with Israeli security forces.
Tension that began in Jerusalem has spread to Nazareth and to Gaza where since Friday at least nine Palestinians have been shot dead amid protests at the border – the latest – a boy of 12
or 13 and a 15 year old, according to Palestinian medical officials.
Dozens of Palestinians managed to breach the border fence before being pushed back.
In the West Bank and East Jerusalem, Palestinian sources say hundreds of people were injured – many of them victims of tear gas.
Twenty Palestinians have been killed since violence flared at the start of the month as well as four Israelis.
In Jerusalem, police officers and two Orthodox Jewish men were the latest wounded in stabbing attacks on Saturday. Israeli officials said both Palestinians responsible were shot dead.
The Palestinian Red Crescent reported that 568 Palestinians were wounded in the West Bank and East Jerusalem on Saturday: 26 by live fire, 148 by rubber bullets, 408 by tear gas, and 4 by beating. (Haaretz)
Read more: http://www.haaretz.com/news/diplomacy-defense/1.679689
The violence has been fuelled by Palestinian fears that visits by Jewish groups and lawmakers to the Jerusalem Old City plaza revered in Judaism as the site of two destroyed biblical temples, are eroding Muslim religious control of the al-Aqsa mosque compound, Islam's third holiest shrine.
Israeli Prime Minister Benjamin Netanyahu has said repeatedly that he will not allow any change to the arrangements under which Jews are allowed to visit the site but non-Muslim prayer is banned.
His assurances over conditions at the site, revered by both Jews and Muslims, have done little to quell alarm among Muslims across the region.
The almost daily Palestinian knife attacks and clashes between Israeli soldiers and stone-throwing Palestinians are not at the levels of violence of past Palestinian uprisings, but the escalation has prompted talk of a third "intifada".
Ali al-Qaradaghi, a prominent Muslim cleric, urged worshippers on Saturday to join what he described as an uprising.
"Every Muslim should contribute to the Intifada that started for the sake of al-Aqsa and Palestine," he wrote on his Twitter account.
Al-Qaradaghi is a cleric at the Doha-based International Union of Muslim Scholars, headed by the spiritual leader of the Muslim Brotherhood, Sheikh Youssef al-Qaradawi.
In 2000, Ariel Sharon, then Israel's opposition leader and later prime minister, visited the al-Aqsa compound. That enraged Palestinians and led to an uprising that continued for five years and left about 3,000 Palestinians and 1,000 Israelis dead.