UN proposes unity government in Libya
Comments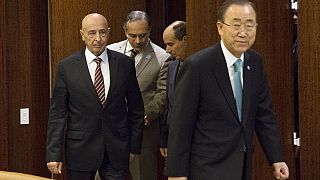 "Not an easy task," said Bernardino Leon, the United Nations envoy to Libya, as he announced plans to form a national unity government in the country.
Both sides must accept the deal, which aims to end the ongoing conflict between Tripoli's self-declared rulers and the internationally-recognised government in the east.
Leon said a list of candidates had been put forward for the unity government.
"The options were not infinite and perfection maybe was not a possibility, but I think that it is a quite reasonably good list of names, politicians, personalities that will do their best I'm sure to take their country out of this crisis," he announced.
The proposal follows months of negotiations. But it faces resistance from Libya Dawn, the Islamist-backed group in control of Tripoli since August 2014. Its parliament, known as the GNC (General National Congress) has not put forward candidates for the unity government.
The UN deal does include GNC members as well as Mussa al-Kouni, a former senior government official who is in the running for the position of Deputy Prime Minister.
"Now the real work starts," he said. "Basically, now it is up to the Libyans represented by the parliament to decide upon this government. Without that we can't do anything."
There are fears the proposal for a unity government will further divide the country, which has suffered unrest since dictator Muammar Gaddafi was toppled in 2011. However Leon appeared hopeful progress could be made.
"All of them will work as a team," he said.