São Paulo offers compromise over Uber after Brazil taxi protests
Comments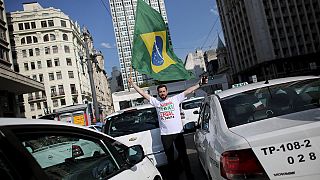 Demonstrations by Brazilian taxi drivers against the mobile ride-sharing app Uber failed to secure an outright ban on such services in São Paulo.
Instead new regulations are to be introduced.
Earlier this month the city council voted to outlaw paid ride-sharing apps such as Uber amid the protests.
Announcing a compromise, the mayor of South America's second largest city said São Paulo would create a new class of taxi, accommodating Uber vehicles, allowing for 5,000 operating permits.
"What was the demand? Society demanded that we incorporated these technologies. The 5,000 new operating permits will include all the existing functions of these apps, so we are not changing the nature of these apps, we are welcoming this technological innovation in a new fleet," the mayor, Fernando Haddad, told a news conference.
The new taxis will be known as "black cabs" and will have to operate exclusively through an app, be it Uber or another.
They must also meet quality and efficiency standards. Drivers must obtain authorisation from the city.
Uber has condemned the decision as unconstitutional, saying it is not a taxi service and should not be considered as such for the purposes of regulation.