Haunting photos capture horror of Portuguese shipwreck
Comments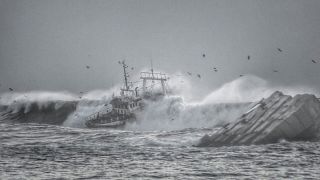 These are the pictures (see below) that capture the horror of a fishing boat sinking off the coast of Portugal, leaving three dead and two still missing.
The trawler, which had a crew of seven, went down on Tuesday (October 6) at Figueira da Foz, around 140 kilometres south of Porto.
Maritime police recovered the bodies of two sailors on Thursday, taking the death toll to three. Two were rescued on Tuesday, while another two remain missing.
City authorities have declared three days of mourning for victims of the shipwreck, which happened at the harbour entrance.
The tragedy was captured by photographer Paul Octavio who had come down to the seaside because of the rough seas and bad weather.
He told Euronews: "The trawler made a first attempt to return to port, which ended in failure. The second attempt was fatal."
He added: "There was a huge frustration because no one was able to help the shipwrecked sailors."
Photos credit: Paulo Octavio.