More unrest in Jerusalem and the West Bank
Comments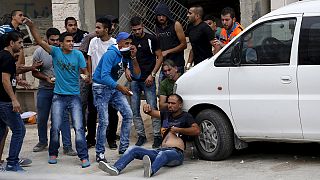 The situation remains tense in east Jerusalem and the West Bank where more people have been injured in outbreaks of unrest.
A man and woman are in hospital after a stabbing and shooting in the Old City.
Palestinian woman shot after knife attack outside Jerusalem's Old City http://t.co/ZKzBUNgt9zpic.twitter.com/nyZANqV3Kh

— Middle East Eye (@MiddleEastEye) 7 Octobre 2015
Police say the woman, who is an Arab, was shot by a 35-year-old Israeli man whom she had attempted to stab.
An 18-year-old Palestinian youth was seriously injured in clashes with Israeli settlers near Beit Sahur in the West Bank.
Four Israelis were killed last week in attacks in Jerusalem and the West Bank. Four Palestinians, including a 13-year-old boy, have been killed by Israeli forces.
#BREAKING Israel lifts restrictions on Muslim prayer at Al-Aqsa

— Agence France-Presse (@AFP) 6 Octobre 2015
Israel has lifted restrictions on worship at the flashpoint al-Aqsa mosque in an attempt to defuse the tension.
Heurts en Cisjordanie et à Jérusalem-Est: vers une troisième intifada? http://t.co/nPHniTuao4pic.twitter.com/aGZQPNqnnS

—

RFI

(@RFI) 5 Octobre 2015
This latest bout of unrest began three weeks ago, prompting talk from analysts of a third intifada.
Israeli Prime Minister Benjamin Netanyahu has cancelled a trip to Germany scheduled for Thursday as a result of the worsening security situation. Israeli government sources have confirmed the news.