South Korea's Chung Mong-joon dismisses FIFA charges against him
Comments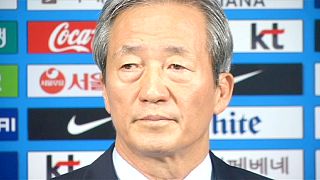 South Korea's Chung Mong-joon has vowed to continue his bid for the FIFA presidency despite facing a fifteen year suspension from the world footballing body.
At a news conference in Seoul on Tuesday, Chung read out a nine page statement countering the accusations against him, which he said were simply a ploy to prevent him running for president.
"As maliciously leaked through the media by FIFA insiders, I am facing suspension by the Ethics Committee for alleged wrongdoings during the 2018 and 2022 World Cup bid process," said Chung.
He said the charges against him arose from his supposed "support" for South Korea's 2022 World Cup bid when he proposed the idea of a Global Football Fund.
He insisted his proposals had been in line with FIFA rules and that he had already been investigated and cleared.