NATO doubts Russia's explanation for Turkish airspace incursions
Comments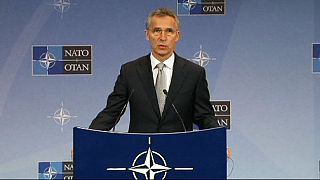 NATO has cast strong doubt on Russia's claims that its violations of Turkish airspace at the weekend were a "mistake".
#UPDATENATO warns Russia's Turkey air violations 'no accident', by sarahussein</a> <a href="http://t.co/0CB3nYNKKw">http://t.co/0CB3nYNKKw</a> <a href="http://t.co/mlTo5UsT7a">pic.twitter.com/mlTo5UsT7a</a></p>&mdash; Agence France-Presse (AFP) 6 Octobre 2015
Secretary General Jens Stoltenberg warned it must not happen again:
"NATO allies expressed strong solidarity with Turkey. They condemn the Russian violations of NATO's airspace. I call on Russia to avoid escalating tensions with the Alliance."
NATO has had no direct contact with Moscow, which has nonetheless dismissed the organisation's comments as "western propaganda."
"Russia is not targeting ISIL, but instead attacking the Syrian opposition and civilians."
Stoltenberg also cited reports of a substantial Russian military build-up in the region, including ground troops and ships in the eastern Mediterranean.
It comes amid increasing warnings of the risk of an international escalation of the Syrian civil war.