Homosexuality, divorce & remarriage up for discussion at Vatican synod
Comments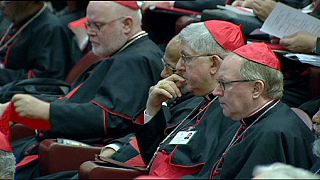 Pope Francis has urged bishops to put aside personal prejudices and has called for frankness, courage and humility within the Catholic church.
His comments came at the opening of a three-week Synod on the Family, aimed at tackling issues in "an open-minded way." The main points up for discussion are how the Church should welcome homosexuals, divorcés and civilly remarried Catholics.
Cardinal Péter Erdő, the Archbishop of Esztergom-Budapest, addressed the topic of gay marriage
"The Church says there are absolutely no grounds for considering homosexual unions to be in any way similar to God's plan for marriage and family. Nonetheless, men and women with homosexual tendencies must be accepted with sensitivity."
The lead up to the Synod was overshadowed by the dismissal of a Vatican priest who revealed he was in a gay relationship. Poland-born Monsignor Krzysztof Charamsa said the announcement was an attempt to confront the Church's "backward" approach to homosexuality.