Air France bosses' shirts ripped off over jobs loss plan
Comments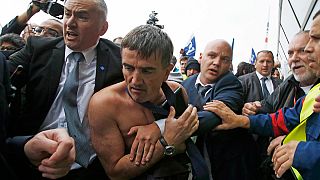 Confirmation by Air France that it plans to cut 2,900 jobs prompted a violent reaction from part of the workforce.
A meeting of the works council near Charles de Gaulle airport north of Paris ended in chaos after being stormed, reportedly by hundreds of protesters.
Management says it intends to press charges after two senior directors were manhandled.
Pierre Plissonnier – the airline's director at Orly airport – and Xavier Broseta – the head of human resources – had their shirts ripped from their backs.
Both escaped by climbing a fence. A union official said Broseta had "almost got lynched".
Air France denounced what it called isolated acts of violence, acknowledging that the main staff protest had been peaceful.
The main employers' association Medef called the attacks "unacceptable and scandalous". The main airline industry union FNAM condemned the assault on Broseta as "behaviour which dates from another age".
.AirFranceFR</a> va porter plainte après l&#39;agression de deux directeurs, chemises arrachées par des salariés en colère <a href="https://t.co/z9gCRsgQN0">https://t.co/z9gCRsgQN0</a></p>&mdash; iTELE (itele) 5 Octobre 2015
Air France executives, shirts ripped from their backs, flee angry employees protesting plan that would cut 2,900 jobs pic.twitter.com/tIqefyHZB3

—

AFP

Photo Department (@AFPphoto) 5 Octobre 2015
The restructuring plan could involve compulsory dismissals if voluntary departures cannot be agreed. The majority of job losses – 1,700 – are set to be among ground staff, as well as 300 pilots and 900 cabin crew.
"Our pay has risen very little. Above all our occupation is not recognised. We're simply asking for Mr (Alexandre) de Juniac (Air France-KLM's chief executive) to leave the company. He's done us a lot of harm since his arrival and he's brought us nothing," said Air France employee Kourou Melbassen. "All he does is defend the shareholders' interests, he doesn't take care of the staff."
"We're being asked to work more. We've already given a lot with "Transform" (the former restructuring plan). Our pay has gone down slightly, we've worked more, now we're being asked to work more still. We're going to die of it, we cannot work more!" added an unidentified female protester.
Air France's intention to go ahead with its new restructuring plan follows the breakdown of talks with pilot and cabin crew unions.
To compete with low-cost rivals, Air France also wants to shed aircraft from its long-haul fleet and cancel orders for new Boeing jets.
[PRESS RELEASE] Presentation of the #AirFrance restructuring plan http://t.co/bsgXsqsc8i

— Air France Newsroom (@AFnewsroom) 5 Octobre 2015