Turkish president accused of electioneering on foreign trip
Comments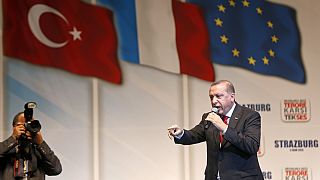 Turkish President Recep Tayyip Erdogan has been accused by opponents of electioneering at an anti-terror rally in Strasbourg.
President Erdogan is meant to stand above politics but he urged thousands of 'expat' Turks to support the ruling AK party to ensure stability and defeat Kurdish militants.
"Our problem is with terrorism, with terrorists..The terrorist organization (PKK) and the party backed by it (HDP)They can never be the representative of our Kurdish brothers."
Turkey goes to the polls on November 1 but Turks living abroad will start voting earlier on October 8.
Outside the conference hall hundreds of Erdogan opponents gathered to protest against his visit to France.
Holding banners reading "Erdogan go away" and chanting slogans against the Turkish president, the demonstrators , mainly Alevis (whose faith is a distinct branch of Islam) and Kurds accused him of trying to mobilise his supporters against them.
French Federation of Union of Alevis, Sema Kibickaya said: "I think his presence here is inappropriate. As a president he shouldn't be coming for electoral purposes to rally the Turkish people in Europe,"
Erdogan called the snap election following failed coalition talks between the AK party and its rivals.this summer.
The AK party which Erdogan co founded, is promising a new constitution with more presidential powers.
The Peoples Democratic Party (HDP), widely supported by Kurdish and various leftist groups in Turkey, received 13 percent of the vote in June's general election, becoming the first pro-Kurdish party to win the right to a seat in parliament.