Uzbekistan wins first judo gold in Tashkent
Comments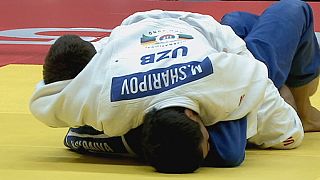 Day two of the Tashkent Grand Prix saw 125 judoka in action across the categories, with gold medals awarded in four weights, two each for the men and women.
It was a day of close-fought matches and grinding out results with none of the spectacular coups of the opening day.
It did however bring Uzbekistan its first gold medal though, for Mirali Sharipol in the under 73 kilo category, who beat Portugal's Nuno Sareiva.
In the under 81 kilo category the United Arab Emirates Sergiu Toma won his fourth grand prix gold, beating Russia's Ivan Vorobev, who despite a bombardment of early moves ran out of ideas.
In the womens' competition the minus-63 kilo category featured an all-European final, Italy's Edwige Gwend beating Austria's Hilde Drexler to win her second grand prix gold.
Kim Seongyeon from South Korea won her maiden grand prix title in the under-70-kilo category. She beat Georgia's Esther Stam.