Portuguese elections: conservatives maintain narrow lead in polls
Comments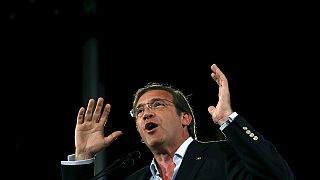 Portugal is living through its closest election race since becoming a democracy in 1974.
With the country gearing up for Sunday's (October 4) general elections, the latest opinion polls suggest the incumbent conservative coalition is on course for a narrow win.
However the coalition, led by Prime Minister Pedro Passos Coelho, seems likely to lose its parliamentary majority.
The opposition socialist party, led by former mayor of Lisbon Antonio Costa is predicted to come in close on the heels of the conservatives.
The governing coalition is estimated to win between 99 and 114 seats – just short of the 116 needed for an absolute majority in the 230-member parliament.
Polls suggest the left could prevail if the socialists were to join forces with the Communists and Greens in the CDU and the radical Left Bloc.
However, for the moment, Costa's party is refusing to commit to a potential coalition.
The incumbent conservatives have upheld strict austerity policies following a 2011 economic crisis which saw Portugal become the third eurozone country to be bailed out.