Portugal's silent revolt and desertion of the young
Comments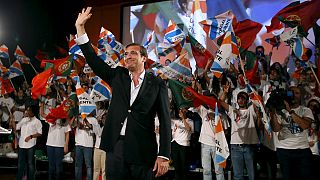 The reputation of the Portuguese people as calm, or even submissive, in relation to the past few years of austerity has rarely wavered. Their anger flashed briefly at the end of October 2012, when their government presented its austerity plan for parliamentary approval. That was three years ago.
To stave off bankruptcy, Portugal accepted the Troika lenders' terms and raised taxes as never before, bringing the country into the ranks of the most-taxed in the European Union. A new government, a centre-right government had stepped in. The Socialists had been defeated in June 2011.
Since then, the number of employees being paid the national minimum wage of just 505 euros has risen by 70%. Today, one fifth of workers are earning the minimum.
Austerity has moved half a million Portuguese to seek better options abroad, leaving their country of some ten million. Even degree-holders feel they must either emigrate or give up.
Ana Morgado, a jobless university graduate, confided: "People are more and more bitter, more mistrustful and rebellious. When I talk with my friends, I wonder what will happen when things get even worse."
And yet 60% of 15-24-year-olds say they have no interest in politics.
The economic and social suffering of the people seems to have left the political landscape unchanged; no new party has emerged.
Opinion polls suggest that premier Pedro Passos Coelho, who passed the Troika measures could win re-election now, and that the Socialists, led by Paulo Portas, could remain the foremost opposition party.
We talked to Raquel Varela, a researcher in Contemporary History with Lisbon's New University, about this disillusionment.
Nuno Pereira, euronews: "New political parties, with a substantial vote base, have emerged from the social unrest in Greece and Spain — Syriza and Podemos — why not in Portugal?"
Raquel Varela, Lisbon New University: "I can provide four explanations. First, we live in a social pact, where the pulse of social conflicts — usually in the work place, whether factories or companies — is felt by families. The fact that people keep living in their parents' house until they are older guarantees social stability. But that phenomenon has also been present in Spain and Greece or other southern European countries in the last three decades. There is also the question of the increase in social support programmes. Many steps, like reinforcing minimum sustenance benefits, have been useful in managing the high unemployment rates and relieving social conflicts. I think the big difference with Portugal is that we had a very late revolution, which created a big communist party and other social movements. The Portuguese Communist Party helps with the framing of our representative democracy."
euronews: "At the end of 2012, we saw protests and violence which are very rare in Portugal. Is Portuguese anger still a quiet one, only shown through the high voter abstention rates? Traditionally, turnout has been high."
Varela: "Abstention is one of the most interesting themes in European societies as we have changed centuries. It's a phenomenon of institutional criticism, with the idea that voting actually has a very low impact on people's lives. This happens when you have international institutions with the agreement of national institutions, mostly parliaments, deciding a series of measures that the people do not pay close attention to. That's the case with the European Commission, for example. All this generates a profound erosion of the democratic system. But I don't think it will be a permanent erosion. We are not on the brink of a democratic collapse. What the social movements are saying is that democracy can't be a mere formality. There has to be social democracy, economic democracy, and strategic control of investments and of the biggest companies."
euronews: "Does the ageing of the population and massive outward migration of young people help explain a certain resignation, averting a rupture with the national power structure and the European institutions?"
Varela: "We have one or two generations who reached adulthood in the 1980s who are central to this social pact, within the model of an absence of conflict, with an idea that people don't have to mobilise politically. Questioning the political parties does not create a path to building other political parties, it creates a path so you can look for solutions. Most of the unemployed people in Portugal live with the support of their families. As for emigration, we now have probably the highest emigration rate ever, even higher than in the 1960s. The answers that people are coming up with individually are overlapping with collective ones."