North Carolina braces for Hurricane Joaquin
Comments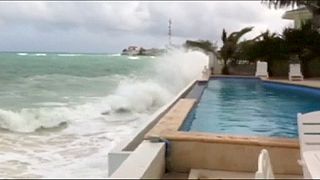 Hurricane Joaquin strengthened to a dangerous category 4 storm as it battered the Bahamas with torrential rain and powerful winds on Thursday (October 1).
The US states of New Jersey, North Carolina and Virginia have declared an emergency and have warned residents along the east coast to prepare for flooding and power outages.
North Carolina is expect to bear the brunt of the severe storm. It has been raining there non-stop for about a week.
"What we do know is that the current weather systems will bring substantial rain to North Carolina during the next few days, this is most of North Carolina," North Carolina Governor Pat McCrory told reporters. "This is in addition to the soaking that we have experienced over the past week. Nearly the entire state is under flood watch and that is before the possible hurricane even begins to impact our state."
The Miami-based National Hurricane Center said that the storm is expected to turn towards the northwest and north on Friday, "and a faster motion towards the north is expected Friday night and Saturday."