Analysis: Russia's intervention in Syria
Comments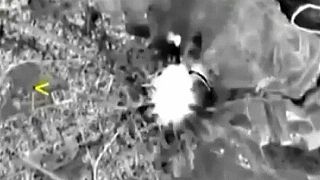 How much worse can the bloodshed in Syria get, with Russia dropping bombs on behalf of President Assad? President Putin says this is to fight regional extremism, notably the radical Islamic State movement (ISIL).
Only with the rising havoc created by ISIL in Syria and Iraq did the West and regional allies start using air power against the jihadists in Syria, last September.
Putin's blitzkrieg escalation of resources delivered on the ground upstages the United States, which has long been reluctant to commit to any similar intervention in Syria.
By meeting Putin at the UN several days ago, President Obama demonstrated that Putin's isolation by the West over Ukraine is (begrudgingly) over.
Obama said the US is prepared to "work with any nation to resolve the [Syria] conflict, including Russia and Iran."
That was on Monday. Then, on Wednesday, Russian warplanes struck. This continued on Thursday, when they bombed a camp run by Syrian rebels trained by the U.S. Central Intelligence Agency.
This would put Moscow and Washington on opposing sides in a Middle East conflict for the first time since the Cold War.
Moscow said it had hit ISIL positions, but the areas it struck near the cities of Hama and Homs are mostly held by a rival insurgent alliance.
The very complicated Syrian civil war is in its fifth year.