Estonia and Russia end Kohver row with 'spy' swap
Comments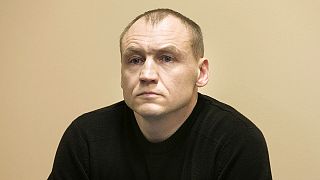 It was a scene reminiscent of the Cold War. On a bridge straddling the border between Estonia and Russia, suspected spies were exchanged.
Tallinn freed Aleksei Dressen, serving a 16-year sentence for spying for Russia after Estonian independence.
His wife was arrested with him in 2012 and given a suspended sentence.
Also released, Estonian security official Eston Kohver, who only last month was sentenced in Russia to 15 years hard labour.
"I'm glad to be back in my homeland," he told a news conference on Saturday, thanking those who had helped him.
Kohver's case sparked a diplomatic row.
Russia said he was on its territory and was carrying a pistol, ammunition, 5,000 euros in cash and spying equipment.
Estonia and the European Union accused Russia of abducting him at gunpoint on the Estonian side of the border, where he had been investigating cross-border crime including smuggling.
There has been speculation that Kohver would be swapped for a Russian spy. His released was welcomed by an EU official in a statement.
The prisoner exchange at a remote border post bridging the Piusa river follows deteriorating relations between the two countries.
Ties strained over the Baltic states' rapprochement with the West have worsened following the onset of the Ukraine conflict and Russia's annexation of Crimea.
The Russian news agency RIA cited a source within the country's security service the FSB as saying that Dressen had worked for Russian counter-intelligence since the 1990s, passing on information about US and British spies working in the Baltic countries.
Welcome the release of Estonian officer #Kohver.
Many more illegally detained in Russia still. #FreeSavchenko#FreeSentsov

— Linas Linkevicius (@LinkeviciusL) September 26, 2015
Verry happy that #Kohver is free after one unacceptable year in Rus imprisonment, solidarity w him & #EstoniaMarinaKaljurand</a> <a href="https://twitter.com/hashtag/dkpol?src=hash">#dkpol</a></p>&mdash; Kristian Jensen (Kristian_Jensen) September 26, 2015