Supersonic car unveiled in London
Comments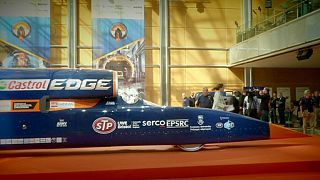 The developers of the Bloodhound Supersonic Car have unveiled what they say will be the world's fastest land vehicle at Canary Wharf in London on Friday.
With a fighter jet engine and rockets, the 135,000-horsepower car is as powerful as 180 Formula One racing cars.
Next year, the Bloodhound team will take the car to a desert race track in South Africa designed especially for the supersonic machine. The plan will be to reach 1,287 kilometres per hour before
attempting to travel at over 1,600 kilometres per hour in 2017.