Presidents of China and US to make joint climate announcement
Comments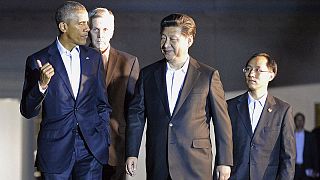 Chinese President Xi Jinping continued his state visit to the United States on Friday (September 25).
Xi and US President Barack Obama were planning to make a joint statement on climate change ahead of a major global climate summit in Paris later this year.
The announcement was expected to put the spotlight on new measures to meet targets to halt or reduce emissions including a Chinese carbon cap-and-trade system.
US Vice President Joe Biden greeted Xi and his wife on Thursday as they landed at Joint Base Andrews outside Washington on the second leg of a week long trip.
President Xi arrived soon after Pope Francis flew out of the US capital yesterday.
Xi will be treated to full honours including a 21-gun salute, and a black-tie state dinner.
Video featuring foreign students florified Chinese president
A video released on the YouTube and Facebook accounts of People's Daily, the ruling Communist Party's official newspaper, has been ridiculed on the Internet for the interviewees' fawning praise of President Xi Jinping.
The three-and-a-half minute clip, which featured university students from 15 countries, is titled "Who is Xi Dada?", a term of affection in Chinese that translates into "Uncle Xi".
It is the first known video of its kind to feature foreign university students, all of whom are studying in Beijing. They celebrate "Xi Dada" as a potential husband, corruption fighter and "cute" leader.