Volkswagen faces uphill battle to repair tarnished image
Comments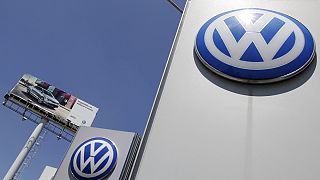 How far will the fallout from the VW emissions tests scandal stretch?
Until this week the words 'German engineering' carried connotations of excellence, expertise, performance and reliability.
Now that good reputation is under threat. The danger for VW – and perhaps the wider car industry – is that information or publicity about vehicles' technological capabilities will be met with scepticism.
Volkswagen has admitted deliberately misleading regulators and consumers – will they trust the company in future?
The response of two motorists in London was unequivocal.
"With this scandal that's come out actually no. I can't trust the information and actually wider form a brand perspective, can I really trust them? I'm not sure anymore," said one woman.
"I don't think I'd buy a VW or any German car at all because of the publicity that VW have had," a male driver added.
Volkswagen in particular has long projected a 'green' brand image. It wrote in its last annual report that making 'attractive and environmentally friendly' cars was key to its growth and ability to weather economic trouble.
The company will be hoping that in the face of an avalanche of negative news, honesty will play in its favour.
Its chief executive Martin Winterkorn has resigned and Volkswagen has issued numerous apologies since the tests scandal broke.
"The car industry is one of the leading and key industries in Germany, and VW is practically leading," said Dr Martin Gornig of the German Institute for Economic Research (DIW).
"The question is what they can do now. One can make an effort to limit the damage, to open up and make transparent how tests are made and what they want to test. A stronger involvement of the state into the control systems? This would certainly be a reaction that could restore lost confidence."
Volkswagen's future depends on its response to customers who may take an extra interest from now on in the fumes being emitted from car exhaust pipes – as well as how much it costs to run their vehicle.
In general motorists are likely to be even more demanding when buying a car – and above all to be sure they are not being taken for a ride.