EU leaders pledge 1 billion euros to help stem the tide of refugees
Comments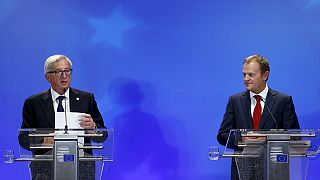 European leaders ended their emergency summit in Brussels claiming to have put feuding over migrant quotas behind them. The talk was more of 'pulling together'.
Immediately after the summit, Germany's Angela Merkel said all participants of the EU meeting recognised the scale of the refugee problem, sending a signal of unity.
The main result has been a pledge of at least one billion euros for Syrians displaced into refugee camps in Jordan, Lebanon and Turkey and more help for those host countries. The money will go specifically to aid agencies on the frontline of the refugee crisis. The proposal is a push to ease factors driving the migrants to Europe in the first place. But the EU Council President Donald Tusk said more:
"It is clear that the greatest tide of refugees and migrants is yet to come. Therefore we need to correct the policy of open doors and windows. Now the focus should be on the proper protection of our external borders and on external assistance to refugees and the countries in our neighbourhood."
That will come as music to the ears of Hungary's prime minister, Viktor Orban, who has been criticised for building a razor fence to keep migrants out .
'If we let the fence work, then we will be able to control the natural borders and the migration inside Schengen zone. But if they don't like the fence, we are also able to let migrants cross into Austria and Germany," Orban said.
About half a million migrants have arrived in Europe this year, exposing deep divisions with in the EU. But despite a row over the relocation of 120,000 migrants, the summit was described as "excellent".
Among other short-term actions before the next regular summit in mid-October, the EU will set up 'hotspots' or special welcoming and processing centres in frontline countries to screen new arrivals.
Reporting for euronews, Sandor Zsiros concluded:
"Although there were no surprise proposals from the EU summit there was substantial debate behind the scenes about the direction of the migration policy. One diplomat was quoted as saying, "Europe cannot offer open doors and put up fences for migrants at the same time.""
Serbian-registered vehicles banned from entering Croatia
Serbian-registered vehicles cannot enter Croatia. Serbian TV showed Serbian citizens being turned back at the border overnight and Croatian police said the ban applied to people and vehicles. Croatian Interior Minister Ranko Ostojic said there had been a "problem with passports".
"As far as people are concerned, they can enter Croatia," he said. "Our border is ready and open for any other car without Serbian registration. Buses with Serbian registration will not enter into Croatia."
The ban was imposed in retaliation for a Serbian embargo on Croatian goods.