Colombia and Farc rebels announce 'peace' breakthrough
Comments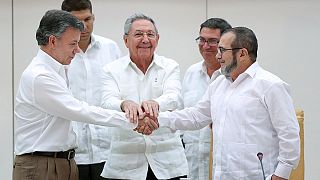 Colombia'president and Farc's top rebel commander have shaken hands signaling a breakthrough in nearly three years of peace talks.
President Juan Manuel Santos and Rodrigo Londono better known as 'Timochenko' reached a justice deal which incorporates the setting up special courts to try crimes committed during five decades of bloodshed. A truth commission and amnesty law are to be created.
'We won't fail': Colombian President & FARC rebels agree to end decades-long war in 6 months http://t.co/4I6kwhPZyBpic.twitter.com/efk5sUCDzT

— RT (@RT_com) September 24, 2015
After making that historic handshake President Santos promised that in exactly six months there will be a definitive goodbye to the last and longest war in Colombia, "and not only Colombia but all America".
The deal is the last significant obstacle to ending the bloodshed in which 220,000 people have died and millions have been displaced.
'Timochenko' said he was happy that the special jurisdiction for peace was designed for everyone involved in the conflict, combatants and noncombatants , and not only for just one side.
The Farc grew out of a 1960s Marxist-inspired peasant movement demanding land reform and has been fighting successive governments ever since.
Peace talks facilitated by Cuba began nearly three years ago but the slowness of progress and then a deadly rebel attack which left 11 soldiers dead in April, led to a recent escalation of hostilities that had threatened to derail the whole process.
The Farc insurgent group – of about 8,000 combatants, down from 17,000 in their heyday – is considered a terrorist group by the United States and the European Union.