France sells Mistral warships withheld from Russia to Egypt
Comments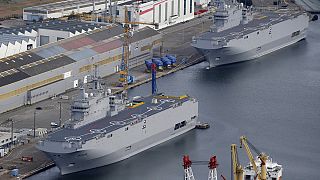 France has sold two Mistral warships originally bound for Russia to Egypt.
The sale to Moscow fell through after sanctions were imposed when Russia annexed the Crimea. Now the Egyptians, who paid 950 million euros for the ships, will station one in the Red sea and one in the Mediterranean.
"Egypt is the buyer that I considered as the preferred one because of our military cooperation with Egypt. I might remind you that we have already sold them Rafale fighter jets, because Egypt is playing a key role in the Middle East, and finally because Egypt wants to have a democratic transition which is not easy and we must support those efforts," said French President François Hollande.
But it seems that co-operation does not extend to buying French helicopters. Interfax reported they would come from Russia. A Mistral can carry up to 16, along with 1000 troops.