What now for Greece? Voters react to Syriza's storming election victory
Comments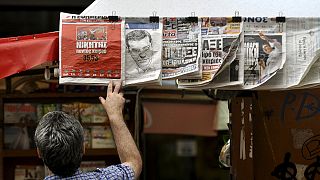 The morning after Syriza's storming election victory, there was mixed reaction on the streets of Athens to what Greek newspapers say is a second chance for Alexis Tsipras to see through reforms and implement a third bailout with lenders.
"I am happy that Tsipras was elected but he needs to work," said local resident Kostas Tabaris.
"He has to carry out reforms, to fix the crisis, help the poor and give bonuses and money to everyone."
Less impressed with the outcome, was fellow local, Eleni Marinopoulou.
"It seems we still like fairy tales. Things shouldn't be like this but there is no alternative. New Democracy has become an old party."
"The results were disappointing and I am pessimistic," said local man Nikos Georgopoulos.
"We already knew which policies would be pursued – those of the third bailout. So we know there is nothing good ahead for the Greek people."
Fighting to get Greece out of one of the worst depressions to hit a modern, industrialised country, Tsipras can't afford to put a foot wrong, with this new mandate.
Greece's year of tumult enters new chapter as Tsipras dominates http://t.co/xXXu8bqxejpic.twitter.com/6inljDUDWW

— Kathimerini English (@ekathimerini) 21 Septembre 2015