Ben Carson called on to quit US presidential race over Islam remarks
Comments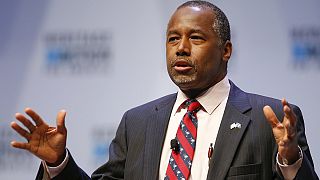 Pressure is growing on Republican Ben Carson to quit the 2016 US presidential race after he said a Muslim should not be president.
His remarks followed a controversy which erupted when front runner Donald Trump failed to challenge anti-Muslim comments made by a supporter.
Carson's views expressed in an interview with a US news channel on Sunday were quite clear:
"No, I don't, I do not. I would not advocate that we put a Muslim in charge of this nation. I absolutely would not agree with that."
Lindsey Graham says Ben Carson's anti-Muslim remarks make him unfit for the oval office http://t.co/TLa0Tus9Ow

— NowThis (@nowthisnews) September 21, 2015
Although there is no Muslim candidate standing in the 2016 presidential race, a Muslim civil rights group has condemned Carson.
Nihad Awad who is executive director of the Council on American-Islamic relations said:
"His (Carson's) views are inconsistent with the United State Constitution. For that we really urge politicians, the general public, community leaders, presidential candidates to repudiate his views and we ask Mr. Ben Carson to withdraw from the presidential race because he's unfit to lead."
Republican colleagues have distanced themselves from Carson while Democrat presidential candidate Hilary Clinton
pointed out on social media that the US Constitution forbids religious tests for holding public office.
Hillary Debunks Ben Carson's Anti-Muslim Comments http://t.co/gV7HaTCwyt

— ☼ John Haydon (@johnhaydon) September 21, 2015