Little drama as Greeks return to polls for third time this year
Comments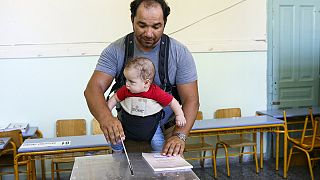 Having only voted overwhelmingly in July in favour of the European Union and International Monetary Fund's cash for reform deal, many Greeks have felt dismay over the results.
The then prime minister Alexis Tsipras decided to implement a more stringent one in order to keep the country in the euro zone.
Whatever the outcome now, some believe uncertainty is the only thing guaranteed.
Vasilis Nedos, a columnist for Katherimini newspaper said: "There's going to be a coalition government, not a government of one party but of two or more, and it will have to deal with two major issues. The first is the third memorandum and the very tough measures which will have to be voted and, subsequently, implemented. And the second is the refugee influx, which has severely increased in the past months."
The situation has inevitably left many feeling battered and bruised by their politicians and the political process. Our correspondent Nikoletta Drougka says there is next to no excitement about the vote because people feel disillusioned and disappointed.
"As people go to the polls for the third time in 2015, the fatigue of the election is evident. Moreover, perhaps for the first time, the Greeks vote knowing beforehand that a one party government is a very unlikely outcome."