Italy rescues 4,500 migrants and refugees from the Mediterranean
Comments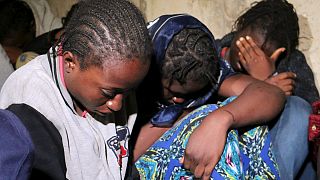 Over the past 24-hours Italy has rescued some 4,500 migrants and refugees off the coast of Libya.
Italy's coastguard says it's coordinated 20 rescue operations involving numerous vessels which picked thousands from rubber boats and barges.
In one vessel, a woman's body was found but the cause of her death remains unknown.
Another 335 people were picked up as part of a rescue mission coordinated by Greece and were being directed to a port in Italy to disembark.
Tens of thousands of people, mainly from Africa and the Middle East, have tried to cross the Mediterranean this year, often dangerously packed into small vessels unsuitable for the voyage.
Germany, Britain and Greece along with several aid agencies are also taking part in the European Union's Triton rescue mission.