Greek voters go to polls in election too close to call
Comments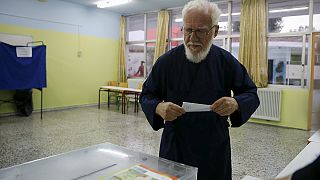 Voters are going to the polls in Greece on Sunday, in a national election that remains too close to call.
Late polls suggested that momentum could have been shifting in favour of Alexis Tsipras and his leftist Syriza party.
But Conservative rival Evangelos Meimakaris remained within spitting distance.
Neither party is expected to secure the roughly 38 percent share of the vote that's needed for a majority in the 300-seat parliament, meaning a coalition is a near certainty. Talks on that would start after the results are back early on Monday.
The outcome of the election is seen as crucial beyond financially-troubled Greece, a country that was almost ejected from the euro zone earlier this year.
The winner of the vote will need to oversee deep economic reforms required for an 86 billion euro bailout brokered in August, a recapitalisation of the country's banks and the unwinding of capital controls imposed this year to prevent and implosion of the financial system.