Fifa's Valcke suspended over alleged World Cup ticket scam
Comments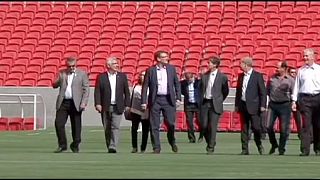 The number two man at Fifa Jérôme Valcke has been suspended as general secretary pending investigations related to a 2014 World Cup ticket scam.
The allegations have been made by Benny Alon a consultant for JB Sports Marketing which signed a contract with Fifa to buy 8,750 tickets to sell on for corporate hospitality.
MORE: #FIFA suspends secretary general Jerome Valcke amid World Cup tickets deal http://t.co/Tq6nlV22Vvpic.twitter.com/PjJyNAn5t6

— AP Sports (@AP_Sports) September 17, 2015
Heinz Schild is director and lawyer of JB Sports Marketing (JBSM) and disclosed what happened:
"At a meeting Jérôme Valcke confirmed he would choose 12 attractive matches for us. In return we made an agreement with him that he should get 50 percent of the ticket sales."
Alon claims that a deal to provide tickets should never have been made as Fifa had already sold them to a rival.
Heinz Schild continues: "The tickets were not provided because there was obviously an internal problem at Fifa concerning the ticket allocation. Presumably the tickets were provided to another exclusive provider, Match Hospitality. Thus we never go the tickets and the deal fell through."
Valcke's US lawyers issued the following statement "Jerome Valcke unequivocally denies the fabricated and outrageous accusations of Benny Alon of alleged wrongdoing in connection with the sale of World Cup tickets."