Croatia says it can't take more migrants as thousands pour in
Comments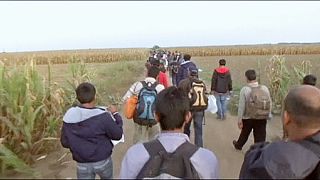 Croatia says it can't take any more migrants as thousands pour into the country, heading to western Europe this way, having been thwarted at Hungary's sealed border.
Many hundreds have pushed through border guard lines and are now continuing their way through Croatia on a journey to western Europe.
Earlier, huge numbers had gathered at the small railway station at the Croatian border town of Tovarnik to wait for trains and coaches.
Hundreds jostled to get on the first buses to arrive, with riot police deployed.
But as the influx continues from the Serbian border town of Sid, Croatia – in the EU but not the passport-free Schengen zone – wants the flow stemmed.
Interior Minister Ranko Ostojic said Croatia would provide migrants with safe passage to reception centres around the capital, Zagreb, but that those not seeking asylum would be considered illegal immigrants. He said 6,500 had entered in the past 24 hours.
"Croatia will not be able to receive more people," Ostojic told reporters in Tovarnik.
"When we said corridors are prepared, we meant a corridor from Tovarnik to Zagreb," he added, suggesting Croatia would not be allowing migrants simply to proceed northwards to Slovenia.
In the capital, riot police have taken position around a hotel where migrants are staging a sit-in – refusing to be transferred to an asylum centre.
Germany remains the promised land for many; getting though remains the problem.