Violence and unrest continue in Cizre
Comments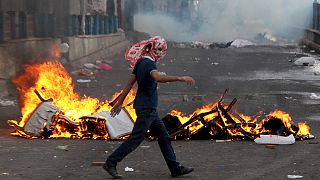 There has been no let-up in tension in the Kurdish city of Cizre.
An eight-day curfew has been reinstated after a 24 hour hiatus.
Turkey's Civil War Takes Toll on Kurdish City @wsj#Cizrehttp://t.co/pUMMkClFTYpic.twitter.com/xGgGS4IRfV

— Mutlu Civiroglu (@mutludc) September 13, 2015
Restrictions are also in place in Diyarbakir.
==
PHOTOS: #Sur, #Diyarbakir in #Turkey after curfew was imposed by Turkish authorities – @syndicalisms

September 13, 2015
==
The latest curfew comes after two police officers were killed in a car bomb blast near Sirnak in the country's southeast.
A third died in a rocket attack in the city of Silvan.
Turkish military killed five militants in the hunt for those responsible.
Cizre has been sealed off for eight days as authorities carried out anti-"PKK":https://en.wikipedia.org/wiki/Kurdistan_Workers%27_Party operations: "Such a shame. They are committing a sin by putting us through all this pain. We will never understand what President Erdogan is doing to us. His tanks and shells killed us all. Here we have 16 bodies that we keep in refrigerators and mosques for days," said one Cizre resident.
In Istanbul pro-Kurdish demonstrators clashed with police.
Violence between the PKK and authorities has surged since July and many fear more to come ahead of elections set for November.