Aircraft pound Sanaa as coalition forces close in on Yemeni capital
Comments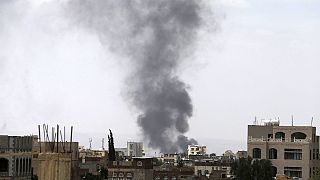 Gulf Arab-led coalition aircraft bombed the Yemeni capital Sanaa intensively on Monday as ground forces engaged Houthi fighters in the neighbouring Marib province.
The coalition wants to take the capital and drive the Iran-backed Houthi militias out.
On Sunday the government in exile in Saudi Arabia pulled out of UN-brokered peace talks, but the UN wants them to return as the situation on the ground is increasingly desperate for the Yemenis caught in the middle. However the ousted government says it will return only when the Houthis abandon their positions.
"Every day that we let pass without a political solution leads to more death, suffering and destruction, at a time when more than 21 million Yemenis are in need of humanitarian aid," said the UN's Stephane Dujarric.
The United Arab Emirates is providing the bulk of the ground forces, also providing armour and Apache helicopters, while Yemeni forces are also fighting alongside them. Their government in exile will meet with the UN on Tuesday.