UPDATE: Fighting steps up in Yemen, despite new peace talks
Comments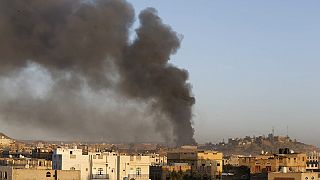 At least 20 people have been killed at a market in the town of Marib, east of Sana'a in rocket fire from Houthi rebels. According to eyewitnesses and medical workers, twenty people were killed and dozens wounded at the packed market.
It comes after warplanes from the Saudi-led coalition bombarded rebel positions in the Yemeni capital. As smoke rose from Sana'a, the UN said peace talks aimed at ending the conflict are set to resume next week.
Special envoy Ismail Ould Cheikh Ahmed, welcomed the decision of the government in exile, Shiite Houthi rebels and the former ruling party to attend talks in Oman. In a statement he urged the participants in the talks "to engage constructively and in good faith, recognizing the need for a rapid end to the violence which has brought intolerable levels of suffering to the Yemeni people."
Previous ceasefire talks have failed, and pauses in fighting to deliver vital humanitarian aid have proven nearly impossible.
Saudi Arabia and its allies began launching airstrikes against the Iran-backed Houthi rebels in March in order to restore Yemen's president to power.
The five-month-long conflict has killed more than 4,000 people and has left millions living on the brink of famine.