Pope calls for more co-operation to fight climate change
Comments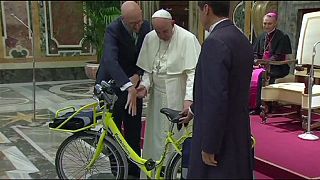 With worries that the December conference on climate change in Paris is heading towards a showdown and possible clash between rich and poor countries Pope Francis has called for closer co-operation to tackle the problem.
Meeting with the Foundation for Sustainable Development in the Vatican, he warned the UN needed to make progress when it approves sustainable development objectives in October.
"I ask everyone to make an effort so that the voice of the poorest will be heard at the table where the world looks for a solution to the complex social-environmental crisis, to listen to the voice of the poorest countries and the poorest human beings," he said.
There is no shortage of dire warnings about the impact of climate change. The latest came on Friday with the International Centre for Agricultural Research in the Dry Areas saying the cost of food imports to the Middle East is expected to double in the next 20 years.