Catalan National Day may mark start of road to independence from Spain
Comments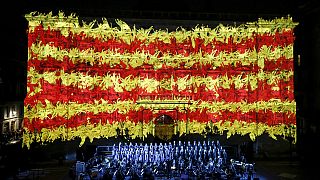 For Spain's autonomous Catalonia region September 11, 2015, is a notable date on two fronts. As well as being la Diada – the Catalan national day – it also marks the beginning of the campaign for the upcoming local elections.
The region's President Artur Mas took part in a ceremony in Barcelona to commemorate the day in 1714 when Catalonia lost its self-rule to the Castillian crown.
The road to independence?
But with the Sociological Research Center's latest state-run poll suggesting the leader's left-wing Junts Pel Si movement could win a narrow majority in the vote, secessionists are looking to today as the beginning of the road to independence for the northeastern region.
Mas has joined the left-winged ERC to form the pro-independence movement, which is expected to win 60-61 votes on September 27.
A coalition with the more radical, left-wing CUP could achieve a combined 68-69 seats (around 44 percent of the vote), which represents the narrowest possible majority.
Opposition
The campaign has become an attempt to turn the regional election into a proxy vote on independence.
Spain's centre-right Prime Minister Mariano Rajoy fiercely opposes the idea of Catalan independence, which he has described as "nonsense."
Speaking a week before the national day, he said the region, which accounts for almost a fifth of Spanish economic output, would never gain independence.
International concern
The debate on independence has made waves abroad. German Chancellor Angela Merkel and British Prime Minister David Cameron have both expressed support for Rajoy's Spanish government and a united Spain.
Cameron added a warning that an independent Catalonia would be excluded from the European Union.
The stock markets are also showing signs of nervousness ahead of the election.