African Games Congo: Massamba hands home nation gold in artistic gymnastics
Comments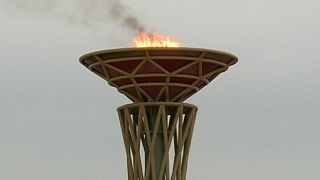 The flame continues to burn brightly in the Congolese capital Brazzaville for the 11th edition of the African Games.
The Palais de Sport in Kintele has been a hive of activity over the past few days.
Algeria celebrated gold in the Team Kata discipline after beating Egypt.
Congo's Mercia Gustany Massamba thrilled the home crowd by taking gold in the men's artistic gymnastic event beating defending champion from South Africa Mafona Tlakisso.
Algeria's Sahraoui Sofiane claimed bronze.
Egyptian Ahmed Akram celebrated two gold medals in one day in the pool.
He first set a new national record e route to gold in the men's 200m butterfly and then later in the day stepped back on to the top spot of the podium cruising to the wall first in the men's 1500m freestyle race.
Mabrina Ruby meanwhile handed the Seychelles a gold medal after winning the women's 58 kg category.
Ruby lifted 80 kg in the snatch and 109 kg in the clean and jerk for a winning total of 189 kg.