Volunteers left to clean up rubbish at refugee centres in Budapest
Comments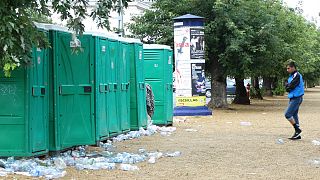 Thousands and thousands of refugees wait daily at Keleti railway station in Budapest. You can smell the unwashed bodies as you approach; there are inadequate shower facilities here. Refugees use bottled water to wash their hands and faces. That is all they can do.
They need container showers and toilets – the same you find at a typical music festival – with cleaning staff to maintain them.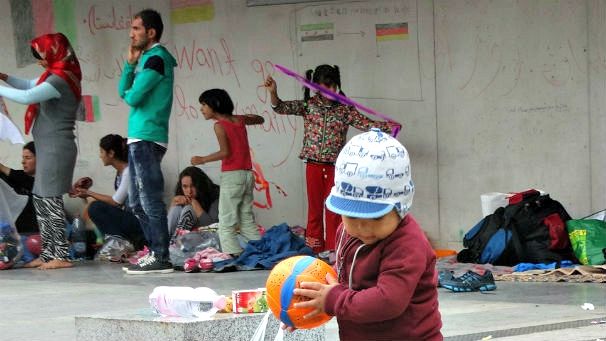 The Mayor's Office of Budapest told Euronews that there are only two showers at Keleti station, one for men, one for women, five toilets for women, three for men plus four urinals. There are eight portaloos as well, with another 12 in the nearby Pope John Paul II. square. The Mayor's Office has opened five water taps, but they cannot install any more showers because the underpass at Keleti (Eastern) does not make it possible. Container showers are placed at another railway station, Nyugati (Western), but most of the refugees and migrants are waiting at Keleti.
City authorities say they are contributing 400 million forints ( more than 1,2 million euros) to build a temporary "social block" in Verseny street, near Keleti station, where refugees can take a shower and sleep in large military tents if needed. But nothing has been built yet despite the continuous flow of refugees and migrants.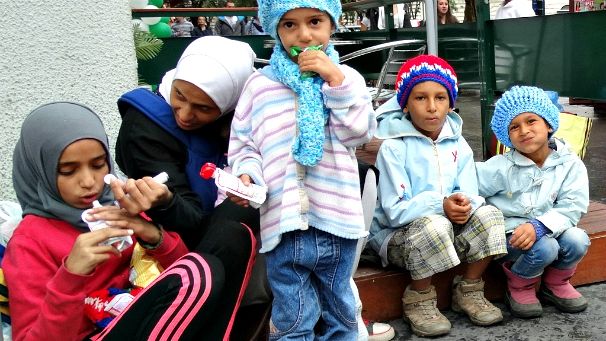 Around Keleti railway station you can see tonnes of banana peel, apple cores, empty boxes of cookies, bottles and other garbage on the ground. The rubbish bins are full. Two street-sweepers walk around cleaning up what they can.
"They do not bother to get up and throw the rubbish in the bin," cries an old man selling newspapers at a newstand, while two other Budapest residents complain "Nobody can fine them even if they smoke under the No Smoking sign because they do not even have an ID card. How can you fine somebody who you can't identify. If we smoked there, the police would fine us immediately." Their annoyance is mixed though with a degree of empathy, especially for the children in need.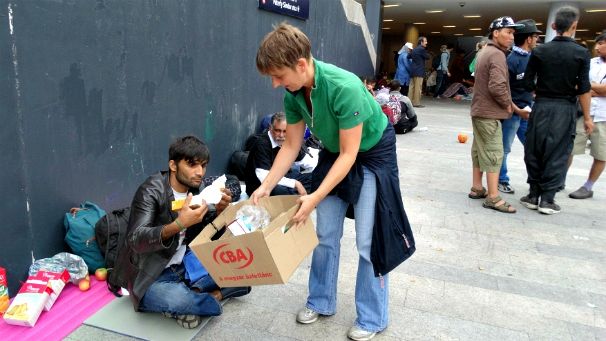 A handful of volunteers are trying to solve the problem. Men and women come to the station in their free time; some help to hand out food, water or clothes, others collect rubbish. They go from family to family with big cardboard boxes and collect what there is to be thrown away. Most of the women and children sit on the ground while the men look around for something to eat and drink or just to get information. The rest of the family stays still, they do not want to lose each other in an unfamiliar town. If their train leaves for Austria they want to be close at hand. The last thing they want is to stay stuck at Keleti.