How does the Queen compare to other long-serving monarchs?
Comments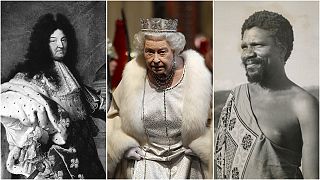 Ngwenyama Sobhuza – King of the Swazi
10 December 1899 – 21 August 1982
82 years, 254 days
Her Majesty will have a long way to go before she overtakes Sobhuza II. His long reign was aided by the fact that he was chosen to be king at the age of four months after the death of his father. His mother ruled as regent until he finally took over the reins in December 1921. He is said to have had 70 wives and fathered 210 children.
He oversaw independence in 1968 and declared himself an absolute monarch in 1973. Democracy, he proclaimed, was "un-Swazi".
Louis XIV
14 May 1643 – 1 September 1715
72 years, 110 days
The French monarch's reign was by a fair way the longest of any major country in Europe. The Sun King, as he became known as, was the standard bearer when it came to extravagance, epitomised by the sumptuous palace at Versaille, just outside Paris.
The death of his father Louis XIII meant he acceded to the throne at the age of four but he began to rule in 1661.
He believed in the theory of the Devine Right of Kings, that the right to rule came directly from God. His rule was marked by warfare such as the War of the Spanish Succession. In 1685 he revoked the Edict of Nantes, which removed the right of French Protestants (Hugenots) to freely worship. Around 200,000, many of them skilled workers, fled the country to Holland and England, which severely weakened France.
Johann II of Liechtenstein
12 November 1858 –11 February 1929
70 years 91 days
The quiet and unassuming Johann II was born on 5 October 1840 and succeeded the throne of the principality in 1858 at the age of 18. He was said to be a connoisseur and patron of the arts. In 1921 he granted Liechtenstein a modern constitution. He never married and was succeeded by his brother Prince Franz I.
Bhumibol Adulyadej
9 June 1946 – present
69 years 90 days
Thailand's king is special in that he is the longest current-serving monarch. He came to the throne on 9 June 1946 and had been there ever since.
He is known as Rama IX, the ninth monarch of the Ckari Dymasty (the ruling house of the Kingdom of Thailand).
The king is deeply revered in a country where people have been jailed for insulting the royal family. He is seen as a symbol of stability in the turbulent country. The 87-year-old has been in poor health for some years.
Franz Joseph I of Austria
68 years
As a king he was revered. As a family man Franz Joseph was unlucky. His wife was stabbed to death by an Italian anarchist, his first daughter died in childbirth while his son and heir committed suicide. His brother Max was executed by Republicans in Mexico and his second brother died of water poisoning in Egypt.
Finally, his nephew and heir apparent, Franz Ferdinand, was assassinated in Serbian nationalists in Sarajevo, which triggered the First World War and the end of the Hapsberg Empire
A special mention to some of the shortest
Lady Jane Grey
July 1553
Nine days
The pious Lady Jane was one of the shortest English monarchs. The 17-year-old didn't want to be queen but was convinced to stick her head above the paraphet by her father-in-law. Her claim to the throne of England was through her grandfather, Henry VII.
John Dudley, the Duke of Northumberland, and father of her husband, persuaded the dying Edward VI to name Jane as heir apparent in favour of Mary. After Edward died, Jane was duly pronounced queen. But Mary, who was officially next in line according to the will of Henry VIII, assembled an army, deposed Jane and imprisoned her in the Tower of London before having her beheaded.
Lady Jane Grey was queen for nine days.
Duc Duc
23 July, 1883
Three days
Duc Duc was an emperor of Vietnam. He was said to be too decadent and debauched at his coronation and sentenced to be poisoned. There is dispute whether he was left to die in captivity or killed months later. Either way he remained on the throne for three days.
Dipendra Bir Bikram Shah Dev
June 2001
Three days
The Nepal heir to the throne was in dispute with his family about his choice of bride. Dipendra wanted to marry Devyani Rana of the Rana clan. HIs family disagreed. He decided to kill them all including King Birendra, his mother, brother and sister. He also shot himself. He survived his suicide attempt for three days in a coma in hospital, where he was proclaimed king. But he succumbed to his injuries three days later.
Louis-Antoine of France
2 July 1830
20 minutes
The Guinness Book of Records gives the shortest official reign to Louis-Antoine of France. For 20 minutes he was Louis XIX of France after his father Charles X had signed away his right to the French throne following the July Revolution. During his short reign he listened to his wife begging him not to abdicate. Minutes later he signed away his right in front of his tearful father.
Luís Filipe
February 1908
20 minutes
Luis Filipe shares the title of shortest reigning monarch on a technicality. The 20-year-old was in a convoy that was attacked by Republicans as the Portuguese Royal Family made their way back from a month-long retreat at their country villa. The terrorists first shot and killed King Carlos, who died instantly. His son and heir, Luís Filipe, at that point became king. But he was also shot and mortally wounded. He lived for 20 minutes. This makes him, technically, the joint-shortest ruling monarch.
Queen Elizabeth II: how Britain has changed during her record reign