Aung San Suu Kyi calls on the world to monitor Myanmar's general election
Comments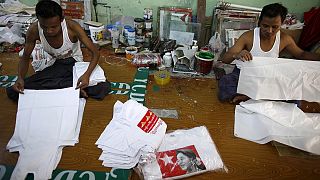 As official campaigning starts in Myanmar's long-awaited general election the leader of the National League for Democracy, Aung San Suu Kyi is calling on the world to keep a close eye on the process.
The NLD is widely expected to win the poll, which will be the first democratic election since the end of military rule
"We hope that the world understands how important it is for us to have free and fair elections", said the NLD leader in a video message. "Please help us by observing what happens before the elections, during the elections, and, crucially, after the elections. This is the best contribution you can make to peace and democracy in this country."
The campaign begins less then a month after a major presidential contender and opponent of President Thein Sein, was removed as USDP party leader.
His dismissal was seen as a move by the president to tighten his political grip ahead of the vote.
The USDP won the last general election, which was held under military rule in 2010 and widely condemned as rigged.
The fear is that the military will find it hard to give up its hold on power and accept a democratic result.
The constitution still grants the military at least 25% of parliamentary seats, so any party or pact would need to win at least two-thirds of the remaining seats in order to choose the next president.