Palestinian mother dies from July West Bank arson attack
Comments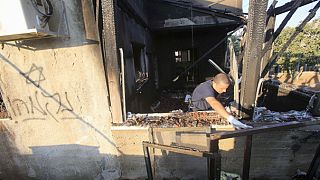 A Palestinian mother has died of her injuries from a firebomb attack this summer that killed first her infant son and, weeks later, her husband.
Riham Dawabsha (also Dawabsheh) suffered severe burns to much of her body in a July 31 attack on her family home, located in the West Bank village of Duma. Her youngest son, Ali, only 18 months old, died in the fire. Weeks later her husband, Saad, succumbed to his injuries. Another son remains in the hospital.
With words such as "revenge" written in Hebrew on the home, Palestinians accused Jewish settlers of the attack.
In July, Israeli Prime Minister Benjamin Netanyahu called the bombing an "act of terror" and said every effort was being made to catch those responsible. Netanyahu's government is now allowing harsher interrogation of alleged Jewish militants and says it will start detaining citizens suspected of political violence against Palestinians, without a trial.
The deaths have provoked international condemnation.
#Breaking – Statement by #UN Envoy nmladenov</a> on death of Reham Dawabsha. <a href="https://twitter.com/hashtag/Douma?src=hash">#Douma</a> <a href="https://twitter.com/hashtag/Dawabsha?src=hash">#Dawabsha</a> - <a href="http://t.co/yrgFCynziH">http://t.co/yrgFCynziH</a> <a href="http://t.co/OQEdqWR4iu">pic.twitter.com/OQEdqWR4iu</a></p>&mdash; UNSCO (UNSCO_MEPP) September 7, 2015
Following the attack there were clashes with Israeli security forces, including stone-throwing between Israeli settlers and Palestinians. Commenting on the death of Mrs Dawabsha, the spokesman for Hamas, Husam Badran, has called on the Palestinian resistance in the West Bank to carry out "novel attacks that would deter the Israeli occupation and settlers".
Hamas comments on the martyrdom of Riham Dawabsheh http://t.co/CCdDKVxzMvpic.twitter.com/8uIveIHq2T

— Hamas Movement (@HamasInfoEn) September 7, 2015
Public reaction:
RHR Mourns the Tragic Death of Reham #Dawabsheh after death of her husband and infant son http://t.co/5BeCVoARgWpic.twitter.com/Z6Sv7M5gs4

— Rabbi 4 Human Rights (@rhreng) September 7, 2015