UK's Cameron changes tack on refugees, admits drone killing
Comments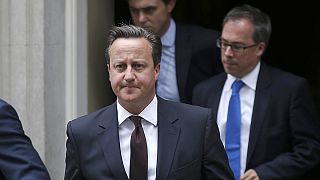 Finally stung into action after public opinion swung dramatically in favour of allowing more refugees into Britain last week, the British government has announced it is to let in some 20,000 people from Syrian refugee camps.
The announcement came as David Cameron revealed he had authorised a drone strike against a British ISIL fighter in Syrian.
The refugee intake is significantly higher than the few hundred Britain said it was ready to consider until recently.
However David Cameron was keen to underline this was a purely British move, and had not been forced by Brussels.
"Britain will play its part alongside our other European partners. But because we're not part, this is important, of the EU's borderless Schengen agreement or its relocation initiative, Britain is able to decide its own approach," he said.
This week the EU Commission is to impose quotas after a June appeal to member states to take refugees mostly fell on deaf ears.
Drone strike
Cameron also declared responsibility for ordering an unmanned Royal Air Force plane to launch an attack which killed three ISIL fighters, including two Britons.
"We were exercising the UK's inherent right to self-defence. There was clear evidence of the individuals in question planning and directing armed attacks against the UK. These were part of a series of actual and foiled attempts to attack the UK and our allies," Cameron told parliament.
Reyaad Khan was the main target of a UK drone, and two other men travelling with him, including Ruhul Amin, another Briton. Another man, also said to have been plotting specific attacks against Britain was killed by a US airstrike.
Britain has no mandate to conduct military operations in Syria, yet Cameron defended the attacks as "entirely lawful" adding that there were "no other means" to stop him.