Thailand draft constitution rejected, elections further delayed
Comments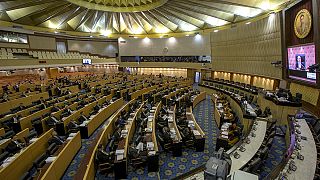 A reform council appointed by Thailand's military rulers after last year's coup rejected a controversial draft constitution on Sunday (Sept. 6), further delaying elections and extending the junta's rule.
For years, the kingdom has been split between pro-democracy supporters of ex-premier Thaksin Shinawatra's populist parties and a conservative, royalist elite backed by the military and judiciary.
The military junta, which seized power in May last year after months of political unrest, says a new charter – Thailand's 20th since it scrapped absolute monarchy in 1932 – is key to restoring calm before democratic elections can be held.
But the draft constitution was rejected by 135 members of the National Reform Council (NRC) and approved by just 105.
Analysts say Thailand's military rule is now effectively prolonged to 2017 because the whole process needs to start from scratch. Had the constitution been approved, an election would have been expected next year.
The draft constitution had been widely criticised as anti-democratic, especially for a clause enabling a special committee, including military and police figures, to seize power during a vaguely defined "national crisis" situation.