Refugees flow through Hungary and Austria, eager to reach Germany
Comments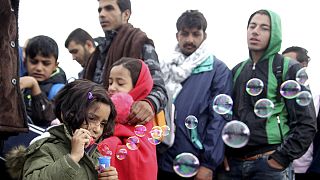 Thousands of refugees were shuttled by bus and train to Austria and Germany over the weekend, after being stuck in Hungary for days.
Austria expects up to 10,000 men, women and children to arrive at its border on Sunday (Sept. 6) alone. In the border town of Nickelsdorf, exhausted but smiling families were being taken by train to the capital Vienna. Most plan to continue their journey into Germany, where refugees have been greeted with open arms.
On Saturday, hundreds more left Hungary's capital Budapest on foot, having been stuck for days there as the government tried to stop them from reaching Western Europe.
"We want bus," men shouted as they marched on a national road outside Budapest, intent on moving forward no matter how tired and sore they already were. Hungary deployed over 100 buses over to the Austrian border last week, but it now says it has done enough.
Further south, at the border with Serbia, another thousand refugees, many from war-torn Syria, poured into Hungary by foot. Many of them were families with small children.
They are part of an unprecedented influx of people escaping conflicts in the Middle East.
According to official estimates, thousands of people cross the so-called Balkan route every day, which goes from the Greek mainland through Macedonia and Serbia before reaching Hungary's EU external border with Serbia.
Over 140,000 migrants have been registered entering Hungary this year, as part of a huge wave of people seeking to reach Europe by boat across the Mediterranean or by land across the Balkan peninsula.
Hungary has lashed out at Germany, which expects 800,000 asylum seekers this year, for saying it would accept requests from Syrians regardless of where they entered the European Union, contrary to EU rules. Hungarian's right-wing government says this encourages migrants to come, and it has been building a fence and tightening migration rules in a bid to seal the country's southern border to migrants as of Sept. 15.