Guatemela's president resigns amid corruption scandal
Comments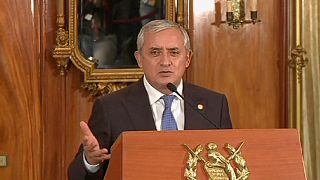 Guatemalan President Otto Perez Molina has resigned, his spokesman said on Thursday, in the face of a corruption scandal that has thrown the country into chaos just days before general elections.
A judge had issued an order on Wednesday (Sept. 2) to detain the 64-year old former general, after parliament stripped him of his immunity earlier in the week.
Perez, who has denied wrongdoing, faces accusations of illicit association, fraud and receiving bribe money in a customs fraud scandal. He has not been formally charged and his attorney said he was cooperating with the judge.
The scandal has already sent his vice president to jail. It has become known as "La Linea" — or "the line", after a phone hotline used in the scam — in which businesspeople paid bribes to avoid import duties through the customs agency.
Thousands of protesters have filled Guatemala's streets over the scandal in recent weeks, demanding not only that the president step down but that general elections scheduled for Sunday (Sept. 6) be postponed.
Perez is constitutionally barred from seeking reelection,and whoever becomes his successor is set to take office in January.
No sitting president in Guatemala has been prosecuted for a crime before.