Handling of migrants 'reminiscent of Nazi concentration camps'
Comments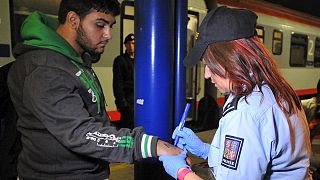 Human rights groups have criticised Czech police for the manner in which they processed migrants.
Officers used marker pens to write on the arms of 214 refugees after they were detained at a border crossing from Austria and Hungary.
The move reminded some of the way Nazis wrote numbers on concentration camp prisoners.
Alp Mehmet, vice-chairman of MigrationWatch, said: "It is simply wrong and foolish.
"They are treating them in a way that could look like they are branding them or doing what happened to the Jews in Nazi Germany," he said speaking to Mail online.
"I can understand why people will be repulsed by this type of action. No one is suggesting they won't be treated well, but the sooner they stop this the better all around."
Andrew Stroehlein, European Media Director of Human Rights Watch, said: "What never stops amazing me are people who look at the Holocaust and think that it only holds lessons for Germans and Jews."
Lucie Novakova, from the Czech interior ministry, defended the move saying it was introduced to keep in check the increasing number of children among the refugees. "Our goal is to prevent the children from getting lost," she said.
While Katerina Rendlova, spokeswoman for a unit of the Czech police, said the measure was used with large groups of refugees to keep record of family members.
"We also write the code of the train they have arrived on so that we know which country we should return them to within the readmission system," she said.
Germany says it is expecting 800,000 asylum seekers this year, four times higher than in 2014, said Andrea Nahles, the German Labour and Social Affairs Minister.
"As one of the world's richest countries, with good infrastructure, a viable welfare state, and a solid budget surplus, we are in a position to rise to the occasion," he said at a briefing ahead of the G20 meeting in Turkey.
He also said there must be more fairness in the distribution of refugees within the European Union, as a failure to collectively handle the migrant crisis could affect the "idea of Europe".
What never stops amazing me are people who look at the Holocaust and think that it only holds lessons for Germans & Jews.

— Andrew Stroehlein (@astroehlein) September 2, 2015
History raises its ugly head: Czech police force 200 refugees off German-bound train, mark numbers on their skin. https://t.co/XEdatkzI3x

— Mira Kamdar (@mirakamdar) September 2, 2015